SLOVENIA – LAND OF CARNIOLAN BEE
The Slovenian climate and landscape are as diverse as the flora that provides forage to the bees. Depending on weather conditions as well as the geological base, various parts of Slovenia have different types of vegetation. Over long periods of time, bees have adapted to these conditions, obliging us to maintain their characteristics within particular geographical areas. Slovenia is relatively evenly inhabited by bees, and queen breeders are distributed evenly as well.
The Carniolan bee is known for its calm character, stillness on the honeycomb, good orientation, and utilization of forest forage; its advantage lies in its rapid spring development, good cleaning instinct, disease resistance and frugality because it over-winters in colonies with a relatively low number of bees.
In the past, Slovenians have had excellent, talented beekeepers, who greatly contributed to the global body of beekeeping knowledge. One hundred years ago, Slovenian beekeepers and bee merchants controlled the trade in Carniolan bee colonies and queens all over the world. This example can still be followed by today's beekeepers.
Slovenia, as the only EU member state, protected the autochthonous Carniolan bee by law. The import of bees, queen bees or any genetic material (including Carniolan bees from elsewhere) is prohibited. The breeding of other bee breeds and hybrids is prohibited. The territory of Slovenia represents the gene bank of the Carniolan bee in nature. Nuts that are bred in Slovenia are especially appreciated.
The beekeeper and the beekeeper breeder introduces himself
I am a beekeeper Bojan Donko and I am one of the few beekeepers who can boast that they have been involved in the Lendava Beekeeping Society (ČD) for many years. The first notes of our society are over 80 years old. In the village of Dolga vas, which lies between Lendava and the state border with Hungary, directly below the Dolgava-Lendava hills and in the embrace of beautiful forests, from spring to late autumn there is no grazing (yields were up to 60 kg per hive). Beekeeping exclusively with AŽ-hives. I have been engaged in this activity since 1985. In recent years I have been beekeeping with 95-100 farm families, 54 of which have been transported to forest pastures.
Breeding Queen bees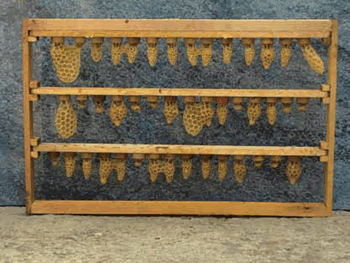 I started breeding nuts in 1988, using swarm nuts in styrofoam flower containers. Due to the increase in the number of business families, the need for quality queens also increased, so I began to work more intensively in breeding. Over the years, I have gained invaluable experience, based on which I have updated breeding technology. Made a breeder myself, which I now successfully sell under the trade name Pomurski breeder. I take breeding materials from selected families, I mature the mats in an incubator; I breed nuts in one size AŽ watch breeders. The advantage is that, in spite of the large number of bees, the nut also has plenty of space for laying. For the quality of the nuts, the most important thing is that the young nut is optimally supplied with food immediately before hatching and during the first days of life and that it is warm enough in its environment. The queen's breeding ground is in an abandoned clay pit along the main Lendava-Dolga vas road. Nearby is just a gathering of drones, so that the nuts return from the dust after 3-5 minutes, and pollinated nuts are as high as 90-95 percent.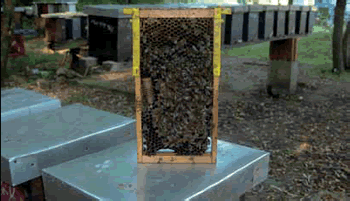 With many years of experience and dedication, I carefully perform selection in a selection beehouse, select superior families and suggest breeders to ensure the optimum quality of bred queens. Considerable care is given to all breeding goals, with an emphasis on honey bees and stillness.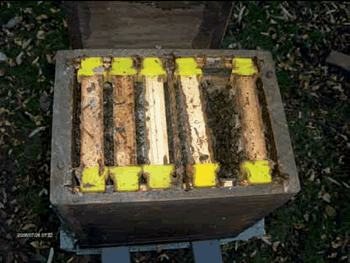 All bee nuts are pollinated and marked with a back number and meet all selection criteria. We only pick up the nut when it has a closed stock, if it does not meet this condition, we remove it. We collect the nuts as short as possible before picking up the order, thus providing less stress for the nut.
The whole breeding of bee families is carried out under strict veterinary supervision. At the request of the buyer, upon delivery, we issue an extract from the herd book for the Carniolan bee.
How to buy bee nuts?
You can buy nuts from early May (depending on the weather) until late fall.
Contact for purchase or for additional information: info@mellifera.si
PRICE: 18 EUR per Queen Bee. The buyer also covers the shipping costs (according to the price list of the Post of Sovenia). The buyer receives a Queen bees with escorts (7 bees) in the special transport box.
We send Queen Bees by EMS ("Express Mail Service") in this countries (notice: due to corona virus only UPS delivery is possible):
EMS ( Weigt from 100g-2kg):
Austria, Germany, Romunia 34,10€,
France 41.45€.
UPS (Weigt from 100g-2kg):
Austria, Germany, Romunia: 57,60 €,
France 60.2€.
Make your purchase using Bank transfer. When you send us demand with number of Queen bees, we will send you invoice with bank account number. The invoice has to be paid using bank transfer. After payment we will send you a boy with Queen bees. We deliver 10, 20, 30 and 50 Queen Bees in one package EMS. Every Queen Bee with escort bees are closed into separate plastic box with food.
Our motto is: QUALITY AND HONESTY GUARANTEE SUCCESS AND SATISFACTION.
Beekeeping Donko
Bojan Donko
Dolgovaške gorice 16
9220 Lendava